Chandra Nandini is an Indian Hindi-language historical fantasy drama television series, which began airing on Star Plus from 10 October 2016 to 10 November 2017.  It was produced by Ekta Kapoor under her banner Balaji Telefilms and directed. By Ranjan Kumar Singh. Starring Rajat Tokas as Chandragupta Maurya and Shweta Basu Prasad as a princess Nandani, the storyline is loosely based on the life of Chandragupta Maurya.
Chandra Nandini
Genre
Historical Fiction
Drama
Created by
Ekta Kapoor
Shobha Kapoor
Based on
Chandragupta Maurya
Written by
R M Joshi
Neha Singh
Directed by
Ranjan Kumar Singh
Mukesh Kumar Singh
Deepak S Garg
Creative directors
Sujata Rao
Kadar kazi(kk)
Starring
Rajat Tokas
Shweta Basu Prasad
Siddharth Nigam
Country of origin
India
Original language
Hindi
No. of seasons
1
No. of episodes
286
Synopsis
The story is about Chandragupta Maurya, the founder of the Maurya Empire, a great warrior, and ruler known for uniting the Indian subcontinent. However, the show focuses on his love story with a princess named Nandini. The show begins with Bharat Mata's voice about Chandragupta Maurya and Nandini. Suryagupta Maurya, a local king, rules the country with his pregnant wife, Moore. An invitation for a festival comes from Magadha. When they go there, Magadha queen Avantika is cheating on her husband, in love with a barber named Nanda.
When Suryagupta gets this, Nanda kills the king of Magadha. Then, Nanda kills Suryagupta, but Suryagupta saves Moore. She gives birth to a boy. Mura hides her son in a cattle pound and runs away, but is arrested. However, a woman named Kanika found Mura's son on a cattle farm and named him Chandra, and adopted him without knowing his true identity.
Production
Producer
Ekta Kapoor
Production locations
Mumbai, India
Cinematography
Ravi Naidu
Camera setup
Single-camera
Running time
22 minutes approx.
Production company
Balaji Telefilms
Distributor
Star India
8 years later
Chandra has grown up and lives with his adoptive parents. Mura is still in Nanda's prison without knowing anything about his son. She vows that her son will kill Nanda. The nine sons of Nanda and Avantika were followed by a daughter named Nandini.
Meanwhile, Chandra leaves the house as Kanika suffers from her husband because of him. Chandra reaches Magadha and meets a teacher named Chanakya who tries to save Magadha from Nanda. Chanakya sees Chandra's talent and understands that Chandra is the future king who can save Magadha. Then, he puts Chandra in his presence and teaches him.
9 years later
Now, Chandra has grown up and become more talented than the other students in the presence of Chanakya. Nanda's daughter Nandini has also grown up and is ready for marriage. But that marriage is annulled, and Nandini marries Chandra to save her mother and the kingdom. Eventually, love grows between Chandra and Nandini. But Malayakutu and Helena have created many problems. At this time, Nandini's twin sister, Roopa, tries to kill Chhaya and pushes her. Durdhara sees him doing this, and as they did not know about Nandini's twin sister, they blame Nandini for it.
Exposing Roopa, Nandini and Chandra get married again, but this time with full vows. Chandra and Chanakya use Roopa to capture Nanda. But, mistaking Nandini as Roopa, he stabs Nandini. Chandra saves Nandini, but Roopa dies. Chanakya gets upset seeing the close relationship between Chandra and Nandini. Durdhara is now seven months pregnant and apologizes to Nandini for her mistake. Chandra and Nandini try to get intimate, but Chanakya harasses them, saying that they should prepare for war against both Nanda and Seleucus I Nicator as they plan to attack him together. Chandra persuades Seleucus not to fight against him as his army is not as big as that of Seleucus.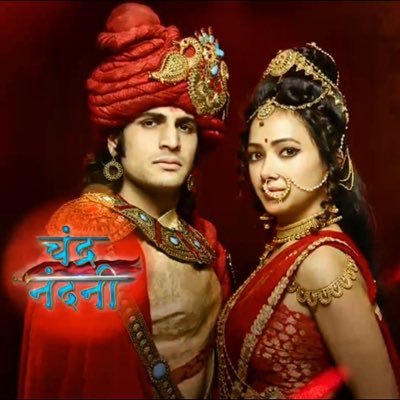 He decided to make Helena the chief queen and banish Nandini from the kingdom as per Helena's wish. Helena threatens Durdhara that she will kill him if she speaks against him. Durdhara became ill. Helena tells Chandra and Nandini about Durdhara's condition, and they both go back to Magadha to see her.
Helena mixes poison in Durdhara's food and she eventually falls ill. Chandra and Nandini see Durdhara and get worried. In the end, Durdhara dies, and her child is taken away by surgery. At the last moment when he was asked about his death, he mistakenly pointed to Nandini while pointing to Helena. Everyone is shocked by Durdhara's reaction. Helena instigates Chandra against Nandini and asks her to get Nandini out of Magadha. In the end, Chandra banished Nandini from Magadha.
1 year later
Chandra now lives with Bindusara, son of Helena and Durdhara. Nandini is teaching princes and princesses of other countries in a gurukul. Chandra brings back Nandini as the maternal grandmother of Magadha and Bindusara. Mahapadma Nanda and his minister Amatya the demons sent a beautiful Vishkanya (poisonous seductress) to Magadha to kill Chandra. She, a princess, comes to the Magadha court under the false name Vishakha. Vishakha tries to seduce Chandra, and he pretends to be in love with Nandini to harass her.
Chandra decides to marry Vishakha and he prepares for the grand wedding. Vishakha's plan to kill Chandra goes in vain every time as Nandini intervenes and saves him. Nandini exposes Vishakha, and Vishkanya is imprisoned. Later, Helena's mother Apma gives Nandini slow poison. Nandini is pushed into a very critical condition, and the only antidote is Vishakha's poison that can cure her. Chandra asks Vishakha for help, but she refuses. In the end, Nandini survives.
Also Read: Barrister Babu
8 years later
Chandra and Nandini are now leading a happy life with Bindusara. Nandini is pregnant with Chandra's child. Helena hates this as she is jealous of Nandini. She assures Bindusara that Nandini had killed Durdhara in the past. Blindly trusting Helena, Bindusara starts hating Nandini and decides to take revenge on her.
One day while on a hunting trip, Bindusara pushes Nandini off a cliff. He deceives everyone including Chandra by saying that Nandini accidentally slipped off the cliff. Chandra mourns Nandini's death and forgets her royal duties.
10 years later
Chandra is living like an ascetic after Nandini's unexpected death. Magadha is now under the rule of Helena. Malayketu and Chhaya's son Bhadraketu, Helena's children, Alice and Adonis, are all grown up. Helena is still keeping Bindusara as her puppet and pouring poison against Nandini in her mind. On the other hand, it is also revealed that Nandini is alive and is saved by an old man. She is rechristened as Prabha as she does not remember her past life as Nandini. Prabha (Nandini) shares a maternal bond with the older adult's granddaughter Dharma. Prabha and Dharma go to Magadha to find some work as servants in the royal palace. As soon as they enter the palace, Dharma starts harboring hatred for Bindusara.
Chandra also finds Prabha, aka Nandini, and makes her his queen again. However, Helena instigates Bindusara against Chandra, resulting in a major misunderstanding. Bindusara marries a princess named Charumati, who treats Dharma badly. Princess Alice falls in love with Prince Kartike of Champanagar and wants to marry him. She also informs her mother, Helena. Helena decides to get Kartikeya's sister Chitralekha to marry Bindusara so that Alice can marry Karthikeyan. She prepares for the wedding ceremony. On the wedding day, Chitraleka, who is already in love with Bhadraketu, runs away and asks Dharma to convert her into marriage. Dharma reluctantly marries Bindusara. He later thanks her for saving her dignity and promises that he will break the marriage soon. A new problem arises when Bhimdev claims Nandini to be his wife Savitri, who enters the palace. Chandra and Nandini's relationship is tested.
It is then revealed that this man is a sorceress, and he, along with his wife Mohini, performed black magic on Chandra to separate him and Nandini. He was ordered to kill Chandra by a mysterious person named Swananda. But, Chanakya comes to know about the secret of Bhimdev and Mohini. Both Chanakya and Nandini protect Chandra from the effects of black magic. Nandini regains her memory and realizes her true identity.
Finally, the mysterious man, Swananda, attacks Magadha and tries to kill Chandra and capture Magadha. But, Chandra and Bindusara overpowered his army, and they killed him. Chandra and Nandini are reunited. Bindusara apologizes to Nandini for his past mistakes. He takes a liking to religion, and they all live happily ever after.
Also Read:
Production
It is considered to be one of the most expensive series produced by Ekta Kapoor under Balaji Telefilms. On 21 September 2016, a press conference was held in Mumbai with the presence of producer Ekta Kapoor and some actors, including the lead Rajat Tokas and Shweta Basu Prasad. Director Santram Varma, who directed the pilot episode of the series, then dropped out and was replaced by Ranjan Kumar Singh.
In October 2016, nearly 300 horses were auditioned for a sequence of lead focus.
Speaking about his role, the male lead Rajat Tokas said, "I am really looking forward to portraying the mighty king, Chandragupta Maurya. His and Nandini's story is very different from what has been seen on TV till now. One of his Love is the story with which it is written. Hate." The female lead Shweta Basu Prasad said, "The show marks my return to TV after a long time. Nandani's character is that of a strong princess whose emotions and struggles resonate with every woman."
In 2017, the story of the series took a leap. during which Siddharth Nigam as Bindusara, Avneet Kaur as Charumathi joined the cast. Due to fluctuating viewership, with Chandragupta becoming a Buddhist monk, the series ended on 10 November. ended in 2017. The shooting of the series was completed on 2 November 2017.
Reception
India Today cited the series as being more masala, less history, and reviewing, "The show's creators have taken a generous amount of creative liberties with the origin story or history. The actors aren't that bad; in fact, they're pretty fine. The palace looks super-animated like it's just been put on screen as an idea."
The Times of India said, "According to the trailer, Shweta Basu fits perfectly in the role of Chandragupta's wife. When it comes to showcasing opulence, there is no one better than Ekta Kapoor. From the costume to the setting, One can expect lavish venues and beautifully decorated men and women."
Historical accuracy and inaccuracy
While the character of Chandragupta and some of the battles and conflicts depicted are almost historically accurate, the character of Nandani, the princess of Magadha and her twin Rupa, is believed to be entirely fictional by many sources.  Most historians said, Chandragupta married only twice, first to Durdhara, who died while giving birth to Bindusara, and years later he married the daughter of Seleucus I Nicator (Helena according to the show) in a post-war peace treaty. took place in According to the show, Rani Nandani is described as the daughter of the real Mahapadma Nanda, which is refuted as there is no historical evidence.
It has been said that Nandini's characterization is mostly based on the Durdhara character derived from historical texts, novels, and poems. Although the existence of Queen Nandani is mentioned in several historical sources, one of the proofs is found in the book Indica of the Greek historian Megasthenes in 350 BC as she served as an ambassador to the royal court of Chandragupta Maurya. Was. According to this book, Queen Nidaras (presumably the Greek pronunciation of Nandani) was the daughter of Mahapadma Nanda/Dhan Nanda which was given to Emperor Chandragupta as a war-peace treaty. In that book, he is mentioned as a great warrior and a leader.